One of my father's favorite books is James Weldon Johnson's poetry collection God's Trombones: Seven Negro Sermons in Verse. The whole collection is gorgeous, a tour-de-force of imagery, theology, and culture. Johnson is better known for "Lift Ev'ry Voice and Sing," adopted by the NAACP as the "Negro National Anthem," but Daddy's favorite and mine is the first poem of God's Trombones, "The Creation." It opens:
AND God stepped out on space,
And He looked around and said,
"I'm lonely —
I'll make me a world."
I've thought for a long time that writers are a little like that. They're lonely–or those characters in their heads are demanding their own real estate, or something–and so they set forth to make themselves a world. No matter how small or detailed that world, it's the quality of the build that engages and excites readers. A couple of books I've read recently have totally brought this to my attention.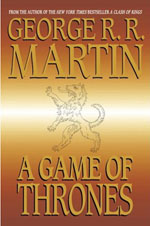 I'm late to the party as usual with A Game of Thrones, the first volume of George R. R. Martin's epic A Song of Ice and Fire. Frick read it some time back (little sneak downloaded it to his phone using my Amazon account without telling me), and he's been encouraging me to read it ever since. I haven't watched a frame of the celebrated HBO series, although I've heard plenty about it, but I finally checked out a copy from the library and dove in.
Wow.
I have admit the first few chapters were tough going, with so much information being hurled at once. The geography of Westeros, the political machinations among the Stark, Baratheon, Lannister, and Targaryen families, the names, the magic…I'm glad I stuck with it, because it's riveting. How that man keeps track of all those family histories and intrigues and incidents, I'll never know. He's done some interesting things with naming–changing familiar things just a touch, like "John" always being written "Jon" or "Eddard" instead of "Edward"–which lends the story just enough familiarity to keep you grounded while you're sifting through the intrigue and trying to decide which family to root for–or not. It's an impressive piece of writing.
Equally impressive for other reasons is A Discovery of Witches by Deborah Harkness. Harkness has managed to blend mythology, history, and even hard science (DNA!) into an engaging read–and considering that one of the main characters is a vampire, something I'm well sick of reading about, that's a bigger feat than you imagine. My inner English teacher let out a squee (literally) when I realized what she was doing with the Bridget Bishop/John Proctor genealogy. Her world, populated with the aforementioned vampires, witches, daemons, and humans, is three-dimensional and fascinating. Again, this book is chock-full of details that must have been the devil to keep straight. Best yet, she left me wondering about Ashmole 782, which means I'm on the waiting list for Shadow of Night.
One drawback to amazing world building, though, is how often your work pales in comparison. Yes, I had the "With books like this, why do I bother?" Dark-Night-of-the-Soul moment when I closed the back cover on both of these. Then again, maybe the world I need to build is just a bit smaller.
(Read all of "The Creation" here. You'll thank me.)