bio
vitals
9th-generation Floridian
dog person
book lover
fountain pen addict
barefooted
around the house
mr. man
frick
frack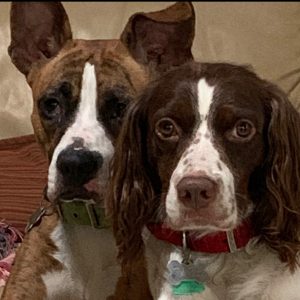 the pups
charmed life
now on the bracelet:
horseshoe
UCF Pegasus
outhouse
JHS tiger
DPHS panther
yin/yang
pineapple
school desk
cap/tassel/diploma
frick silhouette
court jester
frack silhouette
church
bagpipe
typewriter
racecar
key
Celtic knot
Queen Charlotte's crown
martini glass
inspirational words: imagine, dare, spirit, love, inspire, enjoy, believe, live, create, hope, relax
that's my story, and I'm stickin' to it.
The man in the photo is my grandfather. He was a traveling salesman for Thomas J. Lipton who—get this—married a farmer's daughter. Those moss-draped oaks shade the long drive from Shell Pond, my family's North Central Florida farm, to the pond that gave the place its name and provided those impressive bass. And that's me in front, wearing uncomplicated clothing and a furrowed, curious brow.
Flannery O'Connor once remarked that "Anybody who has survived his childhood has enough information about life to last him the rest of his days." That's certainly true of me. Thanks to the moving and my Southern roots (Florida for Mama, South Carolina for Daddy), I have some pretty odd things in my writer toybox, like farmer-sized meals at midday, lightning bugs at twilight, fishing, tornado drills, heat stroke, chicken pox, and Scottish Highland dancing. During my years at Presbyterian College in South Carolina, I added on a debutante ball, watercolor painting, stage management, shag dancing, and jesting—complete with funny shoes and a jingle hat.
Degree in hand, I turned to the world of work and tossed in soda jerkery, bra fitting, graphic design, and holding the nonprofit's check until next Wednesday so it would clear. Not the best way to keep yourself in groceries. Only after my eminently sensible grandmother suggested teaching (and I applied to the University of Central Florida for their master's degree program) did I find my professional home. I've been teaching high school English ever since. Just think—they pay me to talk about books!
But talking about books isn't enough when you have the itch to write them. One preteen-era yarn involved some curious kids, a hidden horse barn, and a promising young colt out of the great racehorse Kelso. I learned the importance of research not long after when I found out Kelso was a gelding. But it wasn't until I discovered Romance Writers of America that I realized what I really wanted to write about: women and their journeys, preferably with happy endings.
My own happy ending began when I married Mr. Man, a teacher and scholar in his own right. We live in the Central Florida town where I grew up, so our two kids went to the same schools I did. They grew up in a house with a couple of dogs, hundreds of books and CDs, baskets full of movies, a rotating series of guitars and amps, two pianos, and a drum kit, with occasional breakouts of euphonium and tuba. We're nothing if not enthusiastic at chez mimi. And now they're off in college, two artists, the musician and painter they were born to become.
Now that I look at it, there's a lot you can tell about me from this photo. My wardrobe never did get very complicated. I married a tall man. I found myself a nice home near a lake, sheltered by oaks draped in scarves of Spanish moss. I have a mouth to rival a trophy bass. And now my furrowed brow and curiosity are happily at work writing.