Sometimes I wonder when the nice people from the hospital are going to call and tell me that there's been a terrible error and that they gave me the wrong baby. I mean, Frack is a straight-up fashionista. She's had an innate sense of style since birth and has always had strong opinions about colors and styles, not to mention the ability to throw things together that shouldn't belong and end up with an amazing outfit.
I, on the other hand, have a hard time with this. My style leans toward comfortable. And although I have a penchant for buying what Miss Carolyn likes to refer to as "go to Hell pants" in interesting prints, I'm not that brave usually. I don't buy cute shoes (comfort again–I loathe heels). I tend to veer towards solids. I like Chico's, which I know is basically Garanimals for grown women, at least if you stick exclusively with the Travelers' collection–which I do. Oy. The most shameful thing, though, is my tendency to have my good sense overwhelmed when it comes to the odd accessory. Case in point: my Bible cover.
I got a big ol' study Bible a few years ago and decided it needed a cover. So after reviewing all the possibilities, I bowed to a few ideas in my head (church/ladylike/pretty) and ended up with this:
Someone's grandma apparently took over my brain. It's pretty, but wow. Whose sofa had to die to make that book cover? It's no wonder that not too long after I bought it, my Bible stopped making regular appearances out in the light. Plus, it's in ripstop nylon. Great for weather protection, but it just doesn't feel that nice. But that's what happens when you let the wrong things tell you what to buy.
So I finally seized the opportunity to make my outside self look more like my inside self. This past Christmas, Wicked (aka my beloved stepmom–really! Long story!) bought me my first Vera Bradley bag. I don't care for all of VB. Some of it is way hosed down in estrogen–super duper girly. Not me. But there is a pattern this season that seems to fit, and Wicked bought me the perfect wee purse that I can't be tempted to overstuff into permanent back issues. And I LOVE it. After trolling obsessively on the VB site (since my teacher bag will probably die at some point, right?), I found out VB makes something called the Good Book Cover, ostensibly for any book, but used mainly for Bibles. Color plus comfort plus fun plus online sale and…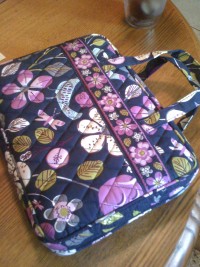 TA DA! The new me. See, that wasn't so tough! Now if I could just remind myself to do that with clothes…